SOUTH WILLIAMSPORT DOG PARK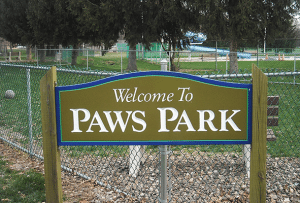 Friends of Paws Park, a group of dedicated and enthusiastic area citizens, have raised funds to create an off-leash dog park at the South Williamsport Community Park Complex.The Dog Park is located at the western end of the Park Complex, to the west of the pool. There is a area for large dogs and one for small dogs. Please remember to clean up after your dog. Paws Park is open during the summer months and is closed from January 1st until May 1st each year for the winter.
Please see their website for more information and to donate to keep the park up and running!
5th Annual "doggone Craft & Vendor fair"
Benefits
South Williamsport K9 Unit & paws park off leash dog park
The Friends of PAWS PARK are hosting our 5th annual DOGGONE Craft & Vendor Fair which benefits both the South Williamsport Police K9 Unit and the PAWS PARK off Leash Dog Park. This event will take place on Saturday May 21st, 2016 from 9:00 am to 3:00 pm at the South Williamsport Community Park in South Williamsport, PA.
The South Williamsport K9 Unit was put in to action in December of 2011. This unit greatly assists local police forces and helps keep our local communities safe. Proceeds from this event will help pay for upkeep and future training programs for K9 Officer Dany .
PAWS PARK off Leash Dog Park was opened November 1, 2009 and is a beneficial recreation for responsible dog owners and their pets. PAWS PARK provides a safe enclosure in which the dogs can exercise and socialize. The proceeds from this event will help pay for upkeep and supplies.
We will have over 80 various Craft & Product Vendors on site. We will also have the South Williamsport Police K9 Unit and other K9 related demos at 10, 11, 12 and 1 with Q&A afterwards. There will be many items up for bid in the Chinese Auction. BBQ Chicken Dinners ($9) and Pulled Pork Sandwiches ($5) can be purchased from 11 to 3 at the concession stand. And new this year, we will be hosting our very own Four Paws Doggy Fashion Show!! Complete with runway and judges. Owners can enter their best buddies in the fashion show and be judged in one of three categories, Best Off the Rack Outfit, Best Original Design Outfit and Best Themed Outfit. Prize baskets will be awarded to winner of each category!! Registration will be handled at the Friends of PAWS PARK Merchandise stand the day of the event. Cost to enter the Fashion show is $10. Enter a second or more dog(s) at $5 each! Fashion show begins at 1:30.
There will be a DJ as well as a Face Painting booth for the kids!! This is a PET friendly and family friendly event!! Please be sure to have your best buddy(ies) on a six foot leash and please clean up after them! Hope to see you there!!
For a list of currently registered vendors, visit out face book event page by searching DOGGONE Craft & Vendor Fair 2016, the page with the picture of K9 Officer Dany and the PAWS PARK sign!!