Welcome to South Williamsport Borough
ANNOUNCEMENTS - MULCH AREA IS OPEN M-F 7:30 TO 3:15. IT WILL BE OPEN 24/7 ON WEEKENDS NO NEED FOR A KEY
THE BOROUGH OFFICE WILL BE RE-OPENING MONDAY 5/11. WE ASK THAT YOU EXERCISE SOCIAL DISTANCING WHEN ENTERING THE BUILDING. THE USE OF MASKS IS STRONGLY ENCOURAGED. ALL COMMITTEE MEETINGS AND THE REGULAR MEETING OF COUNCIL WILL RESUME WITH PHYSICAL ATTENDANCE AND, ONCE AGAIN, EXERCISING SOCIAL DISTANCING PRACTICES, AS OF 5/11/2020. THE MULCH AREA WILL REMAIN OPEN ON WEEKDAYS FROM 7:30 A.M. THROUGH 3:15 P.M. IT WILL BE OPEN 24/7 OVER THE WEEKENDS. THERE IS NO NEED FOR A KEY. THE COUNTY WILL BE ALLOWING RECYCLING DROP OFF AGAIN THIS WEEKEND AT THE SITE NEAR PENN COLLEGE & TRANSFER STATION ON THIRD STREET AND ALSO AT THE KMART PARKING LOT. SEE OUR COVID-19 PAGE FOR THE CURRENT RECYCLING PRESS RELEASE INFORMATION.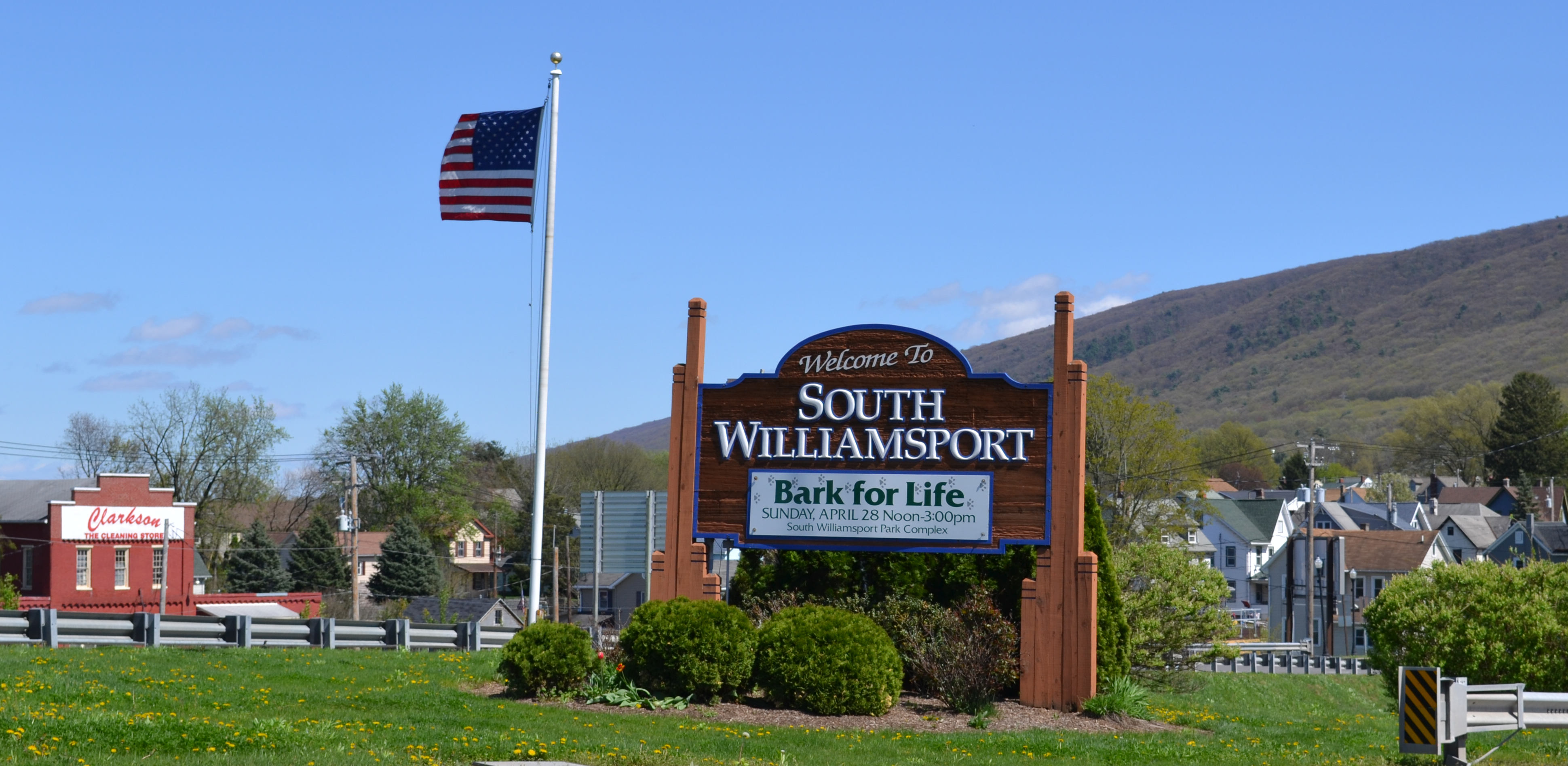 South Williamsport is located in northeast Lycoming County and lies on the south side of the Susquehanna River from Williamsport.  At quite an early period, a village grew, which was named Rocktown.   Before the completion of the canal, the descending trade on the river had become very heavy requiring accommodations for rest and refreshment.  At the mouth of Hagerman's Run was a favorite place to "tie up", so Michael McDonough established a tavern for convenience of the public.  The first real movement towards a town at this point was when Jacob Weise bought a tract of forty acres and laid it out in town lots.  He also established a brick yard near McDonough's tavern and thus promoted trade in his settlement.  Bootstown grew up around the furniture factory of George Luppert, and the sawmills of Green, Sands and Company, and the planning mill of Valentine Luppert.  These two settlements – Rocktown and Bootstown are now included in the Borough of South Williamsport.  The Borough was incorporated in November of 1886.
The government consists of a Mayor and a 9-member borough council with three members from each ward.  The first ward extends from the border of Armstrong Township on the east to the east side of Market St., the second ward begins at the western line of Market St. to the east line of Clinton St. and the third ward extends from the west line of Clinton St. to the Duboistown Borough line. 
The Borough is located in the 83rd State Representative District, the 23rd State Senatorial District and the 10th U.S. Congressional District.
South Williamsport is a residential community with small businesses.  The Borough is approximately 1.9 square miles in size.  There are approximately 23 miles of roads.
South Williamsport is known internationally as the Home of Little League Baseball.  Games begin mid-August of each year at which time traffic more than triples through the Borough.  It is a wonderful part of the summer activities.  The local area bustles with visitors from all over the world.
The spirit of the South Williamsport residents is evident in the support of borough activities and in their commitment to maintaining and keeping their homes in good condition.